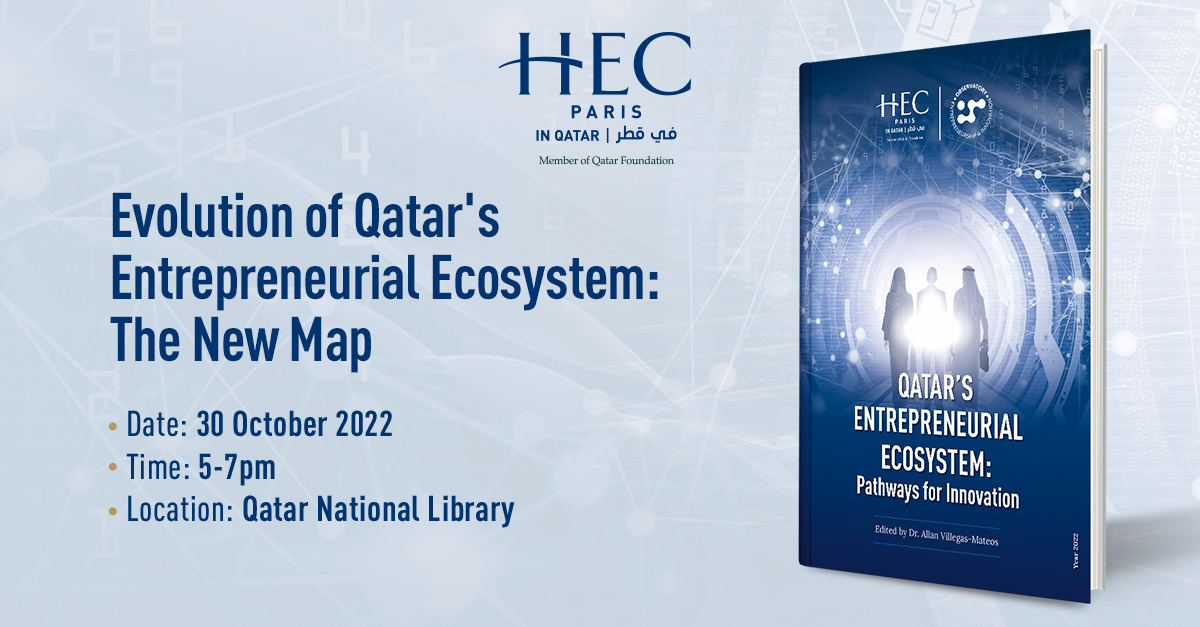 HEC Paris in Qatar in collaboration with its stakeholders conducted two-years research of Qatar's entrepreneurial ecosystem and is please to extend the invitation to join us on this important milestone where we will be releasing a unique report with an updated map of the ecosystem and tools you can take away to overcome the challenges in scaling it and drive the transformation in line with the Qatar National Vision 2030.

At this event, we are bringing together the community of entrepreneurial leaders, policymakers, incubation managers, investors, and academics among others.

Event Details
Day: Sunday, 30th of October Time: 5:00-7:00 pm
Venue: Qatar National Library Special Events Area
Audience: 300 people from the most relevant entrepreneurship stakeholders in Qatar, including Alumni, students, and aspiring entrepreneurs.

Agenda
5:00-5:10 pm Opening Speech by Dean of HEC-Q, Dr. Pablo
5:10-5:40 pm Presentation of the new report of Qatar's entrepreneurial ecosystem by Dr. Allan
5:40-6:20 pm Panel discussion
6:20-6:30 pm Q&A
6:30-7:00 pm Networking reception

Building Community
As members of the same entrepreneurship community, we all need to collaborate more; sharing data and supporting each other's work instead of working in silos. In order to encourage and leverage collaboration, HEC Paris intends to establish the Observatory on Entrepreneurship and Innovation, with the support of the Qatar Foundation. We want to build a governing board, identify founding members, and leverage stakeholders as ecosystem partners.

Moderator
Dr. Allan Villegas
Senior Research Fellow of HEC Paris in Qatar
Panelists
Mr. Saif Qazi
MBA Manhein Business School, Co-Founder and Managing Director of Urban Point.
Dr. Richard O'Kennedy
Vice President of Research, Development, and Innovation at Qatar Foundation. Vice President of Research at HBKU. Member of QRDI Council.
Mr. Abdulla AlKhenii
Graduated from Carnegie Mellon University in Qatar, is Co-Founder and Chief Strategy Officer of Flare Business Center, a private incubator/accelerator for scaling up startups globally.
Ms. Aysha AlRomaihi
HEC Alumna. Head of Strategic Initiatives and Business Collaborations and Program Manager of Scale 7, Qatar's first Fashion and Design business incubator
Mr. Mohammed Al-Emadi
HBKU Alum, Senior Manager of Investment at QDB.
Mr. Marcel Dridie
Serial entrepreneur in Tech and Telecom. Now, business angel investor in 17 international startups, President Emeritus SBA [Sohial, Board Member at EBAN [European) & EUROPIA Capital. Co-founded MDBAN [Maghred Diaspora) & MEDANGELS [Mediterranean)

Please feel free to contact us for any further information:
Email: qatar-events@hec.fr | Phone: +974 4141 3200 | Web: qatar.exed.hec.edu
Follow us on Facebook | Instagram | LinkedIn