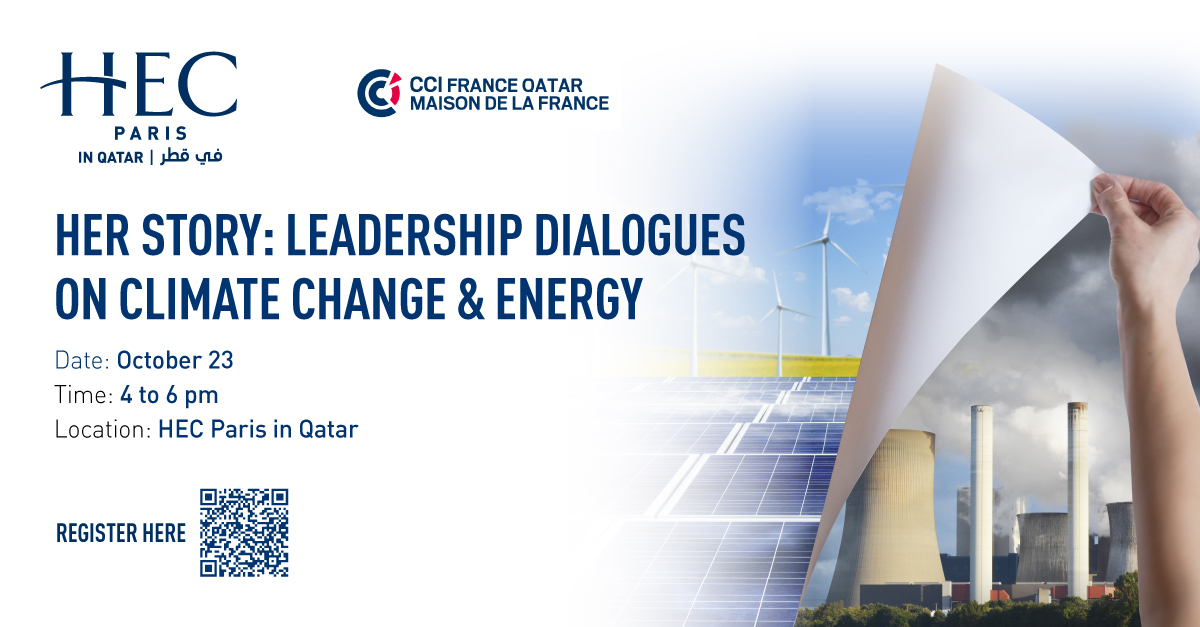 HEC Paris and the French Business Council are working together to launch a series of discussions on women's leadership, called Her Story, where female leaders across various industries will share their work experience and insights on leading in their organizations. The series will kick off with a session on Energy and climate change. We are pleased to invite you to attend the inaugural panel discussions, where female leaders in the Oil & Gas industry will share their experience and knowledge on the topic. Networking and dinner will follow.
Event Details
Day: Sunday, 23rd of October
Time: 4:00 – 6:00PM
Venue: HEC Paris in Qatar - Msheireb
Moderator
Professor Shaheena Janjuha-Jivraj

Professor Shaheena is an Associate Professor at HEC Paris in Doha. She works in the field of innovation, leadership and diversity. She works with organisations and teams to build leadership capabilities to create strong innovative cultures in teams. Shaheena is an expert of diversity, innovation and leadership and has worked globally with organizations to help build high-performing teams. Shaheena works with public, NGO and private business leaders all over the world as well as Fortune 500 firms. She is an award winning author: "Championing Women Leaders", "Succession in Asian Family Firms". Her new book on Futureproofing Your Career has just been launched.

Speaker

Sara AL-MARAGHI

Head of Brownfield project, Engineering, and Construction
Bachelor of Industrial and System Engineering from Qatar University
MBA from HEC Paris
PhD in administrative business management from SBS swiss business school

Abeer Buhelaiqa

Founder and Vice Chairperson of Qatar Women Engineers Association (QWEA). Member of Qatari Women's Affairs Steering Committee and Advisory Board member for College of Humanities & Social Sciences- HBKU. Gained a bachelor's degree from TAMUQ back in 2011 and a Master's degree in Women, Society, and Development in 2020 from the College of Humanities & Social Sciences. Presented globally at the University of Boumerdes, Algeria, and the University of Pertamina, Indonesia. In 2021 named the QatarEnergy Female in Engineering Champion. Received Engineer of the Year Award‐TAMUQ, 2020. Awarded twice for Al-Hasba (second level) and once for Al-Badla (third level) awards from QatarEnergy. Active volunteer, lately with Public Health against COVID-19 and with FIFA 2022 World Cup.

Marie-Charlotte Alboussière

Started her career within TotalEnergies in 2010, holding successive positions in Exploration & Production in Environment, Research & Development, Field Operations, Projects, and Start-ups in France, Angola, Russia and Congo.
She then joined TotalEnergies EP Qatar as Asset Integrity & Major Risks Manager and recently took over the position of VP HSEQ & Security.
She graduated from ENSTA Paris (Ecole Nationale Supérieure de Techniques Avancées) with an Engineering degree in Fluid Dynamics. She then obtained a Master of International Affairs from Sciences Po Paris and a Master of Science and Technology in Oceanography, Atmosphere, and Climate of UPMC (Sorbonne University).
Please feel free to contact us for any further information:
Email: qatar-events@hec.fr | Phone: +974 4141 3200 | Web: qatar.exed.hec.edu
Follow us on Facebook | Instagram | LinkedIn