​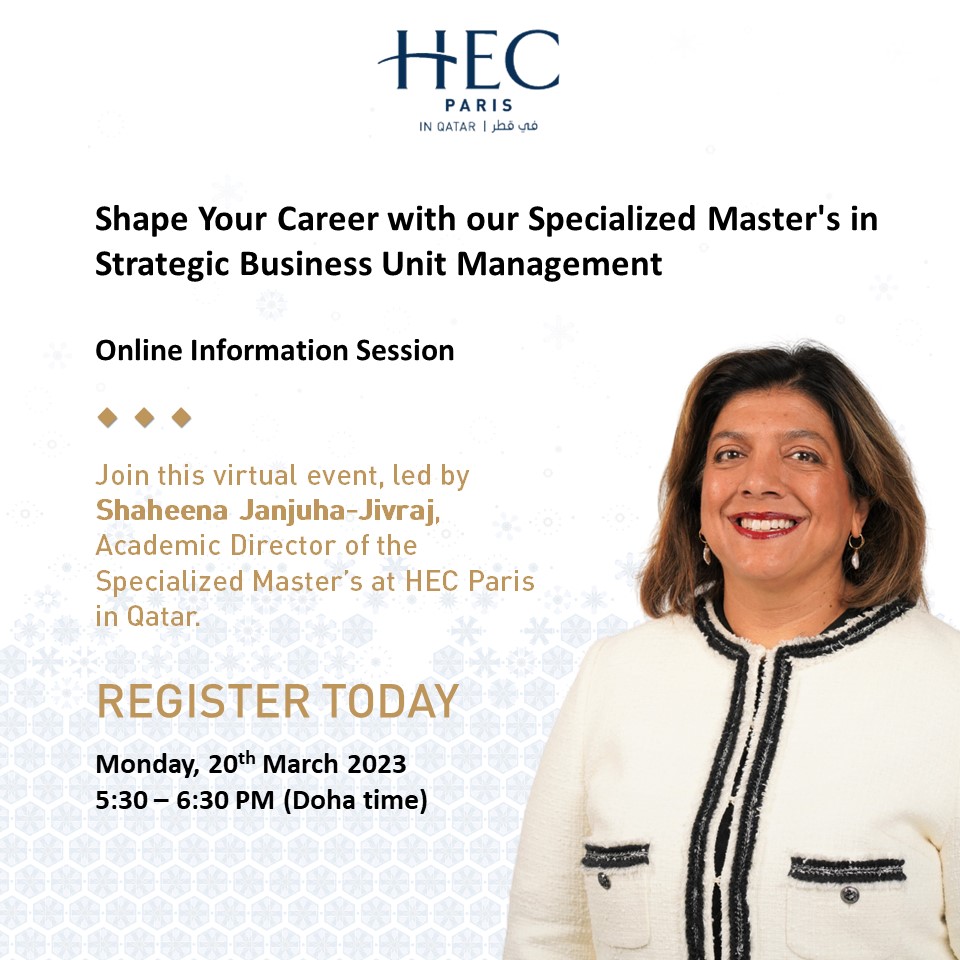 In the midst of an increasingly complex and uncertain world, individuals are taking greater initiative in shaping their own futures.
Whether seeking to advance your career, explore global opportunities, or transition into a new industry, developing and expanding your skills, experience, and network has become essential.
HEC Paris in Qatar, a world-renowned business school, invites you to join an online information session for the Specialized Master's Degree in Strategic Business Unit Management (SBUM) on March 20, 2023. Our specialized master's programs cover a diverse range of fields, such as finance, marketing, sustainability, and more. The program is specifically designed to equip business professionals with the in-depth knowledge and leadership skills necessary to thrive in today's fast-changing job market.


Event Details
Day: Tuesday, March 20, 2023
Venue: Online
Time: 5:30 PM to 6:30 PM
Audience: 150 people from the most relevant entrepreneurship stakeholders in Qatar, including Alumni, students, and aspiring entrepreneurs.
Agenda
5:30-5:40 pm Introduction by Mehdi Cheriti, HEC Paris in Qatar
5:40-5:50 pm Shaheena Janjuha-Jivraj, Academic Director, SBUM Program
5:50-6:00 pm Bahig Georgi, SBUM 2018
6:00-6:10 pm Latifa Buzwair, SBUM 2019
6:10-6:30 pm Q&A

| | |
| --- | --- |
| | During the information session, you have the chance to learn more about the program and meet with Shaheena Janjuha-Jivraj, Academic Director of the Specialized Master's and HEC Paris in Qatar alumni. |
Additionally, you will have the opportunity to ask questions about the admissions process, curriculum, and career prospects.
Mehdi Cheriti, Recruitment Manager
Upon registration, attendees will receive an email containing the link to the event.
Contact Us
Please feel free to contact us for any further information:
Email: qatar-events@hec.fr | Phone: +974 4141 3200 | Web: qatar.exed.hec.edu
Follow us on Facebook | Instagram | LinkedIn
​