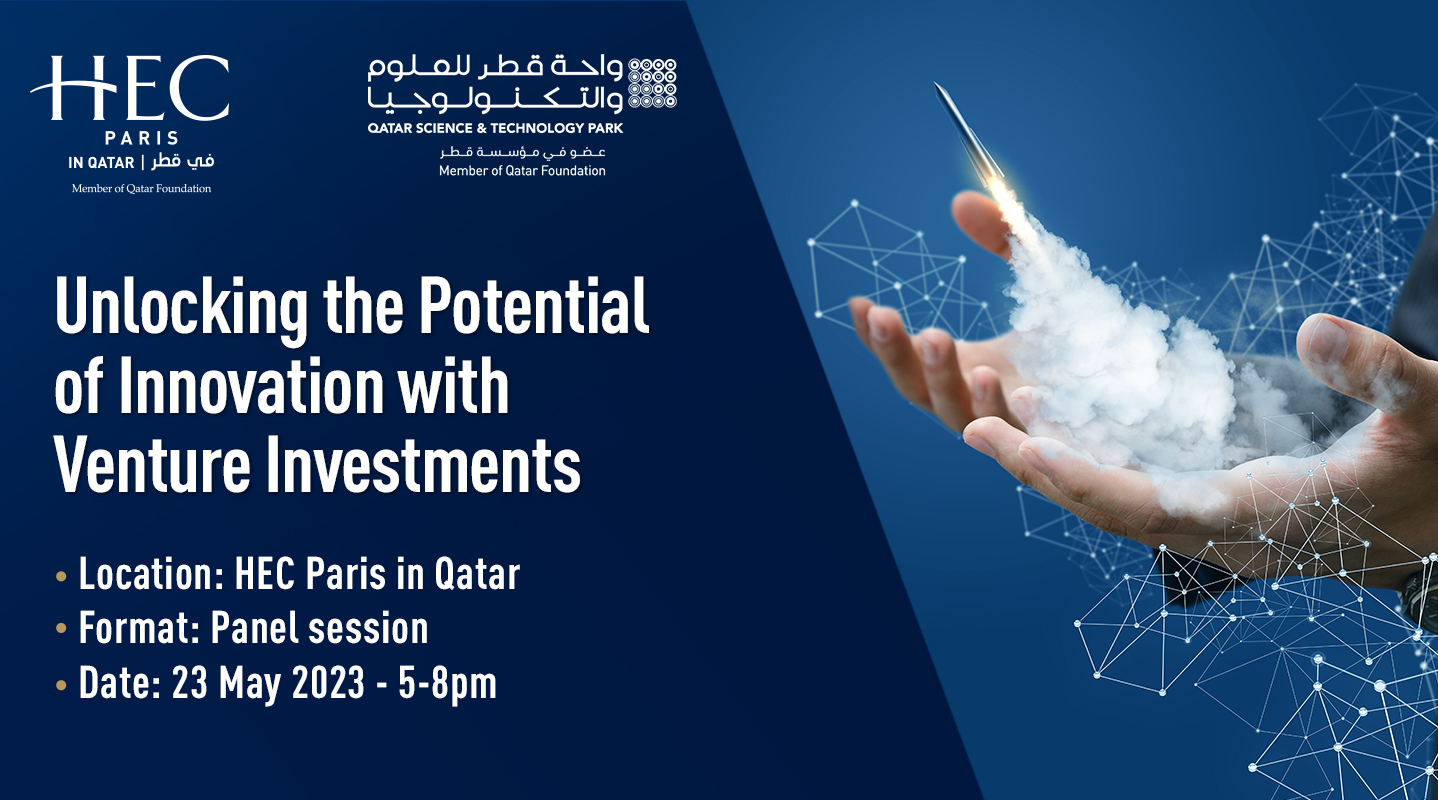 Qatar has been making significant efforts to diversify its economy and promote innovation. Investment plays a crucial role in the process of diversifying the economy as it provides the necessary capital and resources for businesses to expand, create new products, and enter new markets. However, the full potential of venture investment in Qatar has not yet been realized. This event in collaboration with the local stakeholders offers a forum for discussion of what's missing and what needs to be done from the entrepreneur's side but also from the investor's and government's perspectives.

Panel discussion on the occasion of World Innovation Day and the Qatar Economic Forum that is happening in Doha from 23-25 May / with a Zoom video call with a unicorn founder from the HEC Entrepreneurship & Innovation Center in Paris. The session is an interactive session.

Event Details
Day: Tuesday, 23rd of May
Time: 5:00 - 8:00 pm
Venue: HEC Paris in Qatar
Audience: 300 people from the most relevant entrepreneurship stakeholders in Qatar, including Alumni, students, and aspiring entrepreneurs.
Agenda
5:00 pm: Registration
5:30 - 5:45 pm: Opening of the panel and Introduction to the Observatory by Dr. Allan Villegas
5:45 - 7:00 pm: Panel discussion moderated by Dr. Shaheena Janjuha-Jivraj
7:00 - 7:30 pm: Q&A
7:30 - 8:00 pm: Networking

Building Community
As members of the same community, we all need to collaborate more; sharing data and supporting each other's work instead of working in silos. In order to encourage and leverage collaboration, HEC Paris intends to establish the Observatory on Entrepreneurship and Innovation, with the support of the Qatar Foundation. We want to build a governing board, identify founding members, and leverage stakeholders as ecosystem partners.
Moderator
Professor Shaheena Janjuha-Jivraj
Professor Shaheena is an Associate Professor at HEC Paris in Doha. She works in the field of innovation, leadership, and diversity. She works with organizations and teams to build leadership capabilities to create strong innovative cultures in teams. Shaheena is an expert in diversity, innovation, and leadership and has worked globally with organizations to help build high-performing teams. Shaheena works with public, NGO, and private business leaders all over the world as well as Fortune 500 firms. She is an award-winning author: of "Of Championing Women Leaders", and "Succession in Asian Family Firms". Her new book on Futureproofing Your Career has just been launched.


Panelists
Dr. Allan Villegas
Dr. Allan Villegas-Mateos is a Senior Research Fellow of entrepreneurship at HEC Paris in Qatar. He is the author of the book "Qatar's Entrepreneurial Ecosystem: Pathways for Innovation." Dr. Allan has published in peer-reviewed journals like the Journal of Entrepreneurship in Emerging Economies, Sustainability, and the International Journal of Entrepreneurship as well as book chapters in recognized editorials such as Emerald Publishing Limited, Edward Elgar, IGI Global, and De Gruyter. Dr. Allan is a serial entrepreneur, consultant, and angel investor in the technology, manufacturing, and retail sectors. He has spent his free time mentoring at different international incubators and accelerators since 2015, including in Qatar, the Digital Incubation Center, TASMU Accelerator, Founder Institute Doha, and Qatar Business Incubation Center.
Founder and CEO of Vesuvio Labs: Kristian Feldborg
Kristian Feldborg is widely regarded as an influential figure in London's Tech ecosystem. With a proven track record of building successful banking, private equity, and insurance solutions throughout his career, he has earned a reputation as a leading expert in the field, such as unicorn Fenergo.com
Kristian is also the founder of Vesuvio Labs, a startup incubator and seed fund that aims to support innovation and entrepreneurship in the FinTech, InsurTech, and WealthTech space. His leadership and guidance have helped many startups achieve success, and his vision for the future of the industry is sure to influence the direction of the Tech ecosystem for years to come.
Sara Daniel CEO of Doha Tech Angels
Working alongside, and investing in, startups for the past 10+ years, Sara has expertise in high-growth businesses and private company transactions. She is the CEO of Doha Tech Angels - an angel investment club out of Qatar.Prior to her current role, Sara was investment manager at Leap Ventures - a venture capital firm investing in Europe and the Middle East.
Sara holds a BS in Economics from the American University of Beirut, a Master of International Affairs from SciencesPo the Institut d'Etudes Politiques de Paris, and a Master of Science in International Political Economy from the London School of Economics and Political Science.

Joanna Harries, Global SVP of Expansion at Endeavor
Joanna Harries leads Expansion at Endeavor Global, working with some of the fast-growing founders around the world. After joining the team over a decade ago, Joanna's helped scale Endeavor from 10 offices to over 40 today across Latin America, Europe, Asia, Africa, the Middle East, and North America. Endeavor supports entrepreneurs at the "scaleup" stage. Identifying, mentoring, and co-investing in founders with the biggest ideas, the potential to build companies that matter, and the ability to inspire generations of others.
Joanna started her career at Unilever. She's been an Acumen Fellow, and a Kauffman Fellow, and is on the Board of World Education Services (WES) and Endeavor Canada.

Please feel free to contact us for any further information:
Email: qatar-events@hec.fr | Phone: +974 4141 3200 | Web: qatar.exed.hec.edu
Follow us on Facebook | Instagram | LinkedIn