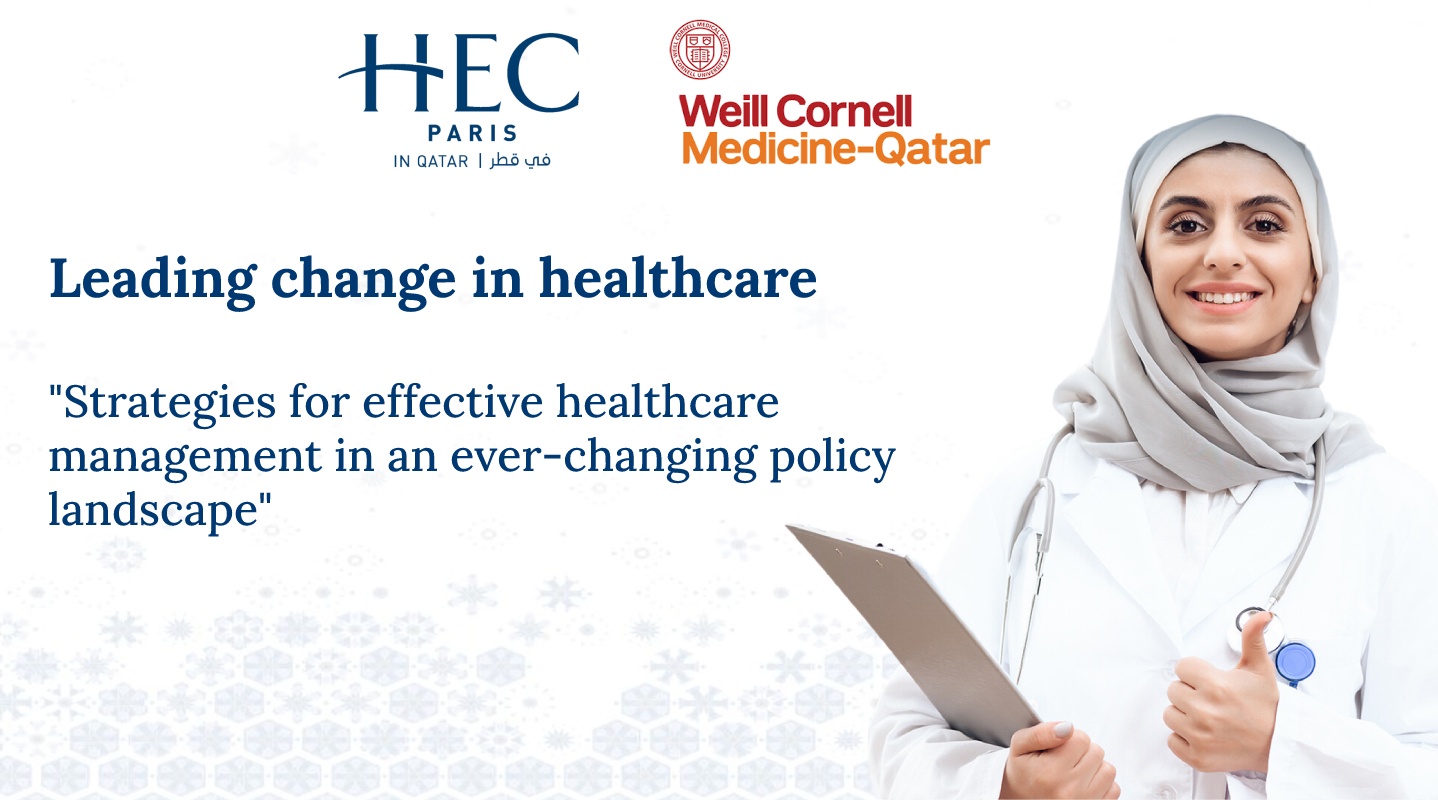 Event Details
Day: Monday, May 15, 2023
Venue: Weill Cornell Lecture Hall 4
Time: Starts at 5:30 PM
Agenda
Registration starts at 5 PM
5:30 - 6:30 pm Panel session
6:30 - 6:45 pm Q&A
6:45 - 7:30 pm Networking
Dr. Charbel Abi Khalil
Associate Professor of Genetic Medicine/Medicine at Weill Cornell Medicine-Qatar
Dr. Abi Khalil holds an MD and Ph.D. from the University of Paris VII (Denis-Diderot) and an executive masters in healthcare economics, policy, and management from the London School of Economics (LSE). Prior to joining Weill Cornell Medicine-Qatar (WCM-Q), he served as a Research Fellow at the INSERM (French Institute of Health and Medical Research), a cardiology fellow at the Assistance Publique-Hôpitaux de Paris, and a Genetic Fellow in the Department of Genetic Medicine at Weill Cornell Medicine-New York. Dr. Charbel Abi Khalil is currently an Associate Professor of Genetic Medicine/Medicine at Weill Cornell Medicine-Qatar on the Pathway Recognizing Academic Achievement and Scholarship. Although Dr. Abi Khalil's clinical training is in cardiology, his research studies have been focused on a wide range of biomedical specialties, particularly cardiovascular disease complications of diabetes and genetics. He is a fellow of the American College of Cardiology (FACC), the American Heart Association (FAHA), and the European Society of Cardiology (FACC). Dr. Abi Khalil received the Paul Dudley White International Scholar Award twice.
Dimitrios A. Andritsos, Associate Professor of Information Systema and Operations Management at HEC Paris

Dimitrios Andritsos is an associate professor of Information Systems and Operations Management at HEC Paris. He holds a Ph.D. in Management from the UCLA Anderson School of Management, a Masters's degree in Supply Chain Management from the Massachusetts Institute of Technology, and a Masters's degree in Industrial Engineering from Purdue University. His research relies on data-analytic techniques to explore two broad settings: i) The pharmaceutical supply chain, where he has focused on manufacturing operations and more specifically on the development and impact of manufacturing process innovations, and ii) Healthcare delivery, where he has studied questions around the operational implications of health policy and the role of process design as a driver of value-based care.
Ali Ustun
McKinsey's Digital & Analytics Service Line within McKinsey's Public & Healthcare Sectors Practices in EEMA
Ali is a member of McKinsey's Pharmaceuticals & Medical Devices Practice in EEMA. During his tenure at McKinsey, he has served in over 150 projects for worldwide clients in public and healthcare sectors (e.g. governments, state-owned entities, funding agencies, providers, and payors), from Turkey, Qatar, Saudi Arabia, United Arab Emirates, Bahrain, Kuwait, Egypt, Azerbaijan, United Kingdom, Germany, USA, Japan, Malaysia, Singapore, Jordan, Iran, Rwanda. His focus has been on digital transformation, productivity improvement, economic development, strategic public-private partnerships, organizational and operational transformation, growth strategy, and financial sustainability. He holds MHS and MSc degrees from the Johns Hopkins Bloomberg School of Public Health and School of Engineering in Radiology and Electrical&Computer Engineering. Ali has been leading the Public and Healthcare Sectors in Qatar for the last 5 years and resides in Doha with his family.
Amr Metwally
Assistant Executive Director Itqan Clinical Simulation & Innovation Center
Amr Metwally is a Strategic & Operational Leader for Business Change, Growth, and Performance Improvement with 20 years of experience in program portfolio management, Healthcare planning & Design, Strategy, Operation, and business transformation initiatives. Amr M. joined Hamad Medical Corporation back in 2010, and ever since he has held several Executive Managerial positions, beginning with "Program Portfolio Manager" where he led and delivered multi-size projects with a total value exceeding 2.4 Billion USD, He also supported the startup of several clinical Business units as Home Care, Nursing Homes, Dementia Unit, Medical Education, Robotic Surgery and Communicable Diseases Center.
Prof. Dr. Peter Horn
Executive Director for Clinical and Service Development Office of the Chief Medical Officer Hamad Medical Corporation
Peter Horn works at Hamad Medical Corporation as a clinical service planning strategy designer for a corporate entity. Development of monitoring and business performance tools. Design and execution of ecosystem changes, including healthcare delivery modeling and service digitization. Development of business and value delivery models on a corporate level. Peter Horn has received the Boehringer-Ingelheim-Fonds für medizinische Grundlagenforschung" award for basic research in medical sciences and Young Researchers Award" 6th International Conference on stable Xenon – CT, Tokyo, Japan.
Prof Mahmood Adil
Advisor to Her Excellency Minister of Public Health, Qatar
Mahmood has over 25 years of medical, public health, academic, executive management and policy experience in the UK & USA. He has delivered on key senior national positions including Medical Director (Public Health Scotland), National Quality, Innovation & Efficiency Advisor (Department of Health, England) & Medical Director to establish Care Quality Commission (England's National Health & Social care Regulator). In 2021, H E Minister of Public Health (Qatar) has appointed him national advisor particularly focusing on; regulating performance & quality of public and private sector, improving data utilisation & health system governance, strengthening academics & global links and enhancing training/research & innovation in Qatar.


Upon registration, attendees will receive an email containing details of the event.
Please feel free to contact us for any further information:
Email: qatar-events@hec.fr | Phone: +974 4141 3200 | Web: qatar.exed.hec.edu
Follow us on Facebook | Instagram | LinkedIn