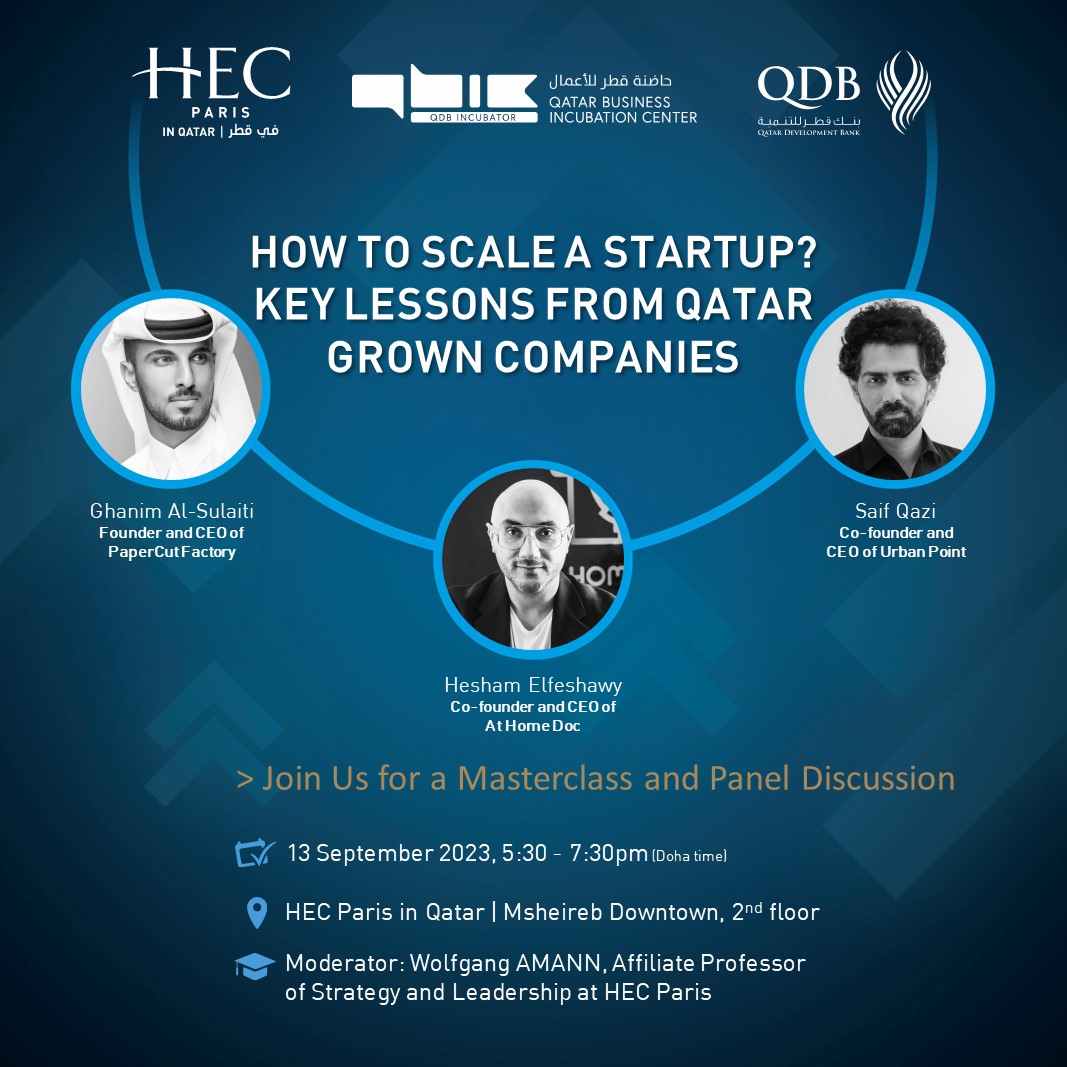 Discover the future of business growth and innovation in our upcoming masterclass. Embracing innovation and collaboration, the HEC Paris in Qatar Business Research Lab has partnered with Qatar Business Incubator Center, a subsidiary of Qatar Development Bank, in a powerful partnership that underscores our joint dedication to fostering local businesses and nurturing talent.
In this masterclass, we'll dive deep into one of three carefully curated business cases that mirror the unique challenges of the region. Explore effective scaling strategies through engaging discussions and insights, all within a captivating learning experience.
The heart of this event is a vibrant panel discussion featuring three visionary startup founders. Gain invaluable perspectives as they share their journey, strategies, and insights on successfully scaling a business.
Join us at HEC Paris in Qatar, where our commitment to thought leadership and top-tier management education harmonizes with the local ecosystem. Immerse yourself in practicality, collaboration, and transformative learning as we shape the future of business together.

Event Details
Day: Wednesday, 13th of September
Time: 5:30 - 7:30 pm
Venue:

HEC Paris in Qatar |

Msheireb

Downtown, 2

nd

floor

Moderator: Wolfgang Amann, Affiliate Professor of Strategy and Leadership at HEC Paris.
Presenter: Allan Villegas-

Mateos

, Senior Research Fellow.

Agenda
17:00

–

17:30

: Registration

17:30 – 17:35

:

Welcome by Allan Villegas-

Mateos

, Senior Research Fellow

17:35 – 18:10

:

Masterclass by Professor Wolfgang Amann (

PaperCut

Case Study)

18:10 – 18:50

:

Panel discussion moderated by Professor Wolfgang Amann with Urban Point, At Home Doc, and

PaperCut

founders

18:50 – 18:55

:

Closing remarks

18:55 – 19:30:

Networking

Building Community
As members of the same community, we all need to collaborate more; sharing data and supporting each other's work instead of working in silos. In order to encourage and leverage collaboration, HEC Paris intends to establish the Observatory on Entrepreneurship and Innovation, with the support of the Qatar Foundation. We want to build a governing board, identify founding members, and leverage stakeholders as ecosystem partners.

Moderator Profile
Wolfgang Amann, Affiliate Professor of Strategy and Leadership at HEC Paris

Prof. Wolfgang Amann is a professor of strategy and leadership at HEC Paris, based on the Qatar campus. He directs a variety of executive education programs. He earned a doctorate in business, learning psychology and educational leadership. Next to designing and delivering executive education seminars worldwide for more than 20 years, he advises and coaches senior leaders. He published 50+ books for executives based on his research and focuses on how to best cope with complexity. In his free time, he participates in long-distance running and Ironman races.

Panelist Profile
Ghanim Al-Sulaiti, Founder and CEO of PaperCut Factory
Ghanim Al-Sulaiti is a young Qatari entrepreneur passionate about creating a positive impact on society by promoting a plant-based lifestyle. In his spare time, he is a serial entrepreneur, founding his first business—Evergreen Organics—in 2016, and now has over 10 projects currently live or under development.
All of these projects share the same vision and values as its founder—to be vegan, sustainable, and promote a healthier lifestyle. Equipped with a comprehensive understanding of the creative and operational procedures needed to produce excellent brands. Ghanim has a personal interest in developing dialogue about healthy living, veganism, and sustainability. With a mind wired for logic and strategy and a desire motivated by the passion of creativity and business savviness.

Hesham Elfeshawy, Co-Founder and CEO of At Home Doc
Hesham Elfeshawy is the Co-Founder and CEO of At Home Doc, a tech-enabled licensed primary healthcare provider offering affordable virtual and in-person hybrid healthcare services. Alongside his twin brother, Dr. Hatem Elfieshawy, they founded the company in 2017, initially in Qatar, Egypt and recently in Saudi Arabia. Throughout the challenges of two lockdowns in 2020 and 2021, Hesham demonstrated unwavering determination to drive the company's growth. Despite these obstacles, At Home Doc recorded a remarkable 145% year-on-year increase in yearly appointments. Furthermore, they successfully raised over USD 5 million in funding, resulting in a fourfold increase in the company's valuation over just three years.

Saif Qazi, Co-Founder and CEO of Urban Point
Saif is the Co-Founder and CEO of Urban Point. Urban Point established in 2015 is a telco-powered marketplace for customers to enjoy offers from local businesses. After meeting his co-founders at Mannheim Business School in Germany studying an MBA, they moved to Qatar and started Urban Point.

Please feel free to contact us for any further information:
Email: qatar-events@hec.fr | Phone: +974 4141 3200 | Web: qatar.exed.hec.edu
Follow us on Facebook | Instagram | LinkedIn