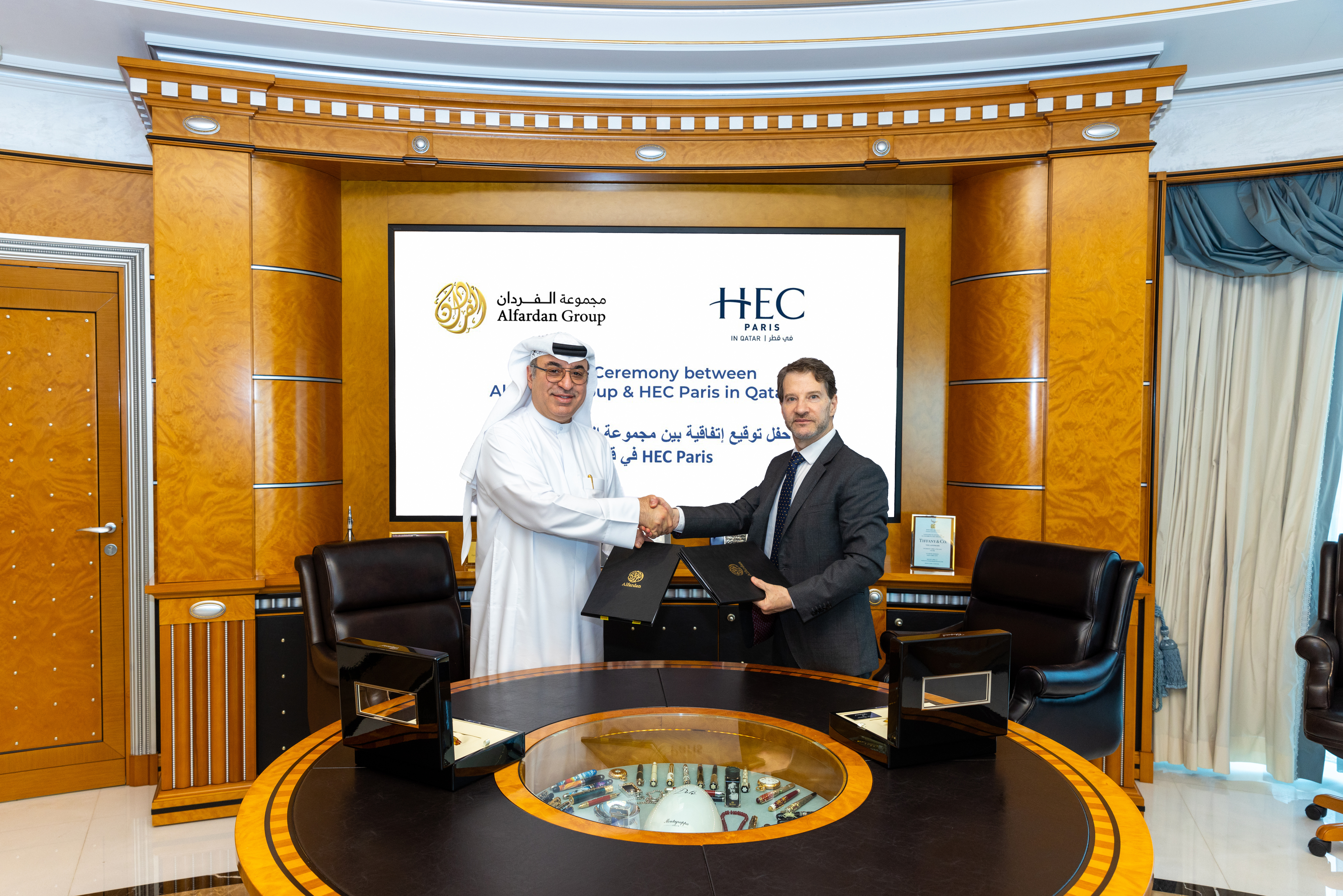 Doha Qatar - Alfardan Group signed an MoU with HEC Paris in Qatar to collaborate on multiple projects related to learning and development. The MoU was formalized in a meeting between President and CEO of Alfardan Group, Mr. Omar Hussain Alfardan, and Dean of HEC Paris in Qatar, Dr. Pablo Martin de Holan in the presence of officials from both organizations on Wednesday, May 31, 2023, at Alfardan Towers.
This initiative comes as part of Alfardan Group's efforts to constantly improve its business practices and will cover multiple areas such as conducting case studies related to different aspects of business; facilitating access of Alfardan employees to HEC Paris degree programs; and deliver executive programs and thought leadership activities.
Mr. Omar Hussain Alfardan, President and CEO of Alfardan Group said, "We are pleased to collaborate with the prestigious institute HEC Paris in Qatar to explore areas of joint interest. As a leading conglomerate, we remain conscious and committed to work on enhancing our operations and culture alongside investing in leadership development and employee engagement to achieve our shared vision while contributing to the overall social and economic wellbeing of the community."
HEC Paris was ranked #1 Worldwide in Executive Education for the second consecutive year by the Financial Times Rankings. HEC Paris in Qatar joined as a member of Qatar Foundation in 2010 and launched the first Business Research Laboratory in Qatar to develop local and regional teaching materials.
HEC Paris in Qatar Dean, Dr. Pablo Martin de Holan also commented, "The signing of this MoU with Alfardan marks a significant milestone in our pursuit of impact and excellence. This collaboration reinforces our commitment to our goal of cultivating exceptional talent and developing visionary leaders who can lead effectively in our uncertain world. Together with Alfardan Group, we aim to shape a future where businesses thrive, job opportunities flourish, and Qatar emerges as a sustainable and diversified economy."
In line with the Qatar National Vision 2030, Alfardan Group prioritizes education as a key component of its CSR strategy and is committed to making quality education accessible to all citizens and residents of the country. Through its Tariqi Scholarship Program, the Group provides financial aid and mentorship opportunities to deserving diligent students to help them achieve their professional goals. The Group also provides various learning and development opportunities to all its employees for their career development and contribute towards achieving common goals.

For more information:
Contact Us | Phone: +974 4141 3200 | Web: qatar.exed.hec.edu
Follow us on Facebook | Instagram | LinkedIn