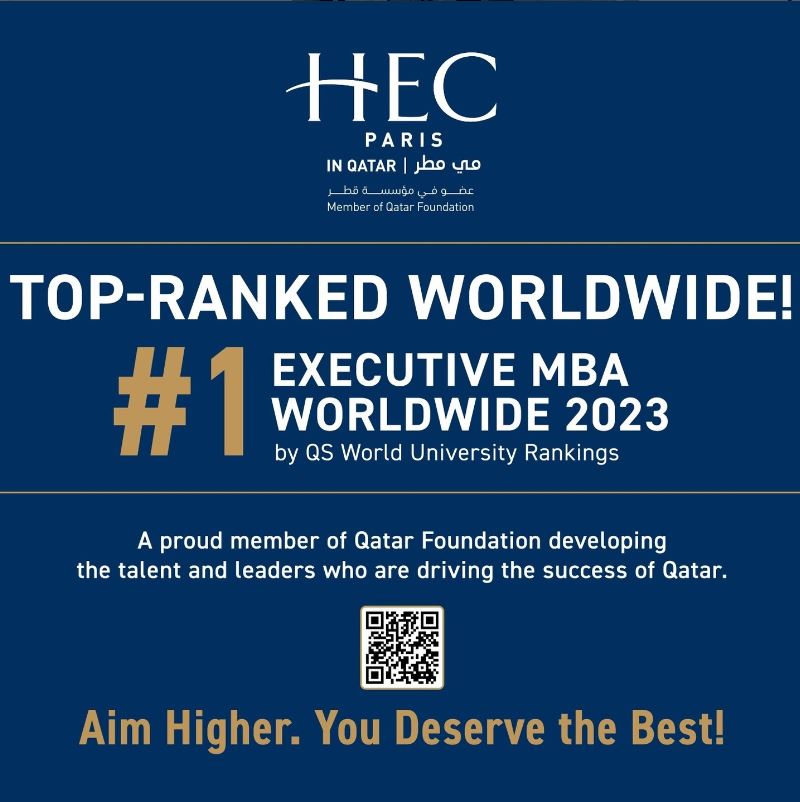 Business School Ranks Highest in Thought Leadership, Academic Reputation & Employability
Doha, Qatar – 15 July 2023: The Executive MBA (EMBA) program offered by HEC Paris, one of the leading business schools worldwide, has been ranked number one worldwide according to the latest rankings released by QS World University Rankings..
HEC Paris emerged top of the league of 199 programs delivered worldwide across five criteria and scored 99.9 out of 100 for thought leadership and academic reputation and 99.6 for employability.
HEC Paris EMBA, which is delivered from the state-of-the-art Doha campus in Msheireb Downtown offers a transformative learning experience based on interactive, impact-driven pedagogical approach that combines theoretical knowledge with real-world business applications.
"We credit much of this recognition to our distinguished faculty, staff, and participants who are dedicated to excellence and continuous improvement," commented Dr. Pablo Martin de Holan, Dean of HEC Paris in Qatar. "Our EMBA program is designed to be compatible with participants' professional careers and to provide them with comprehensive, innovative, and applicable knowledge and skills to fine-tune their analytical and strategic decision-making while expanding their industry networks."
HEC Paris has been a member of Qatar Foundation since 2010. The new number one EMBA ranking adds to another significant recognition: HEC Paris was also ranked number one worldwide in 2023 for Executive Education by the Financial Times. "These top rankings are a significant accomplishment that reaffirms HEC Paris' commitment to excellence and impact in Qatar and across the region. The presence in Qatar of the world's top ranked business school is a significant achievement and element of pride for Qatar Foundation, allowing us to develop the talent and leaders who drive the future of Qatar," comments Joshua Kobb, Executive Director of Partnerships and Growth.
The HEC Paris part-time EMBA Program offers accomplished business professionals the option to enroll in tracks delivered in Paris, Doha and Riyadh. The next intake in Doha begins in February 2024.

Founded in 1881 by the Paris Chamber of Commerce and Industry, HEC Paris brings together 140 permanent professors, 4,500 students and 8,000 managers in executive education programs every year.
As leaders of impactful learning, HEC Paris has been committed to excellence and impact in research, teaching and thought leadership while delivering transformation and support in addressing the disciplines that matter in today's complex global economic situation.
In 2010, HEC Paris joined Qatar Foundation to bring world-class Executive Education programs and research activity to Doha and the region. HEC Paris launched Qatar's first international EMBA, which is currently ranked number 1 worldwide by the QS World Rankings, and a master's program. In addition, HEC Paris in Qatar delivers custom-designed programs. In 2023, for the second consecutive year, HEC Paris has been ranked #1 Worldwide in Executive Education by the Financial Times for the combined rankings. The school works with clients in Qatar and the region to design and deliver executive programs that address current business and social challenges.
The programs and research activities of HEC Paris in Qatar build corporate competitiveness within the global economy and are fully aligned with Qatar National Vision 2030 to support the transformation of Qatar into an advanced, competitive, and knowledge-based economy. Corporate partnerships have also played a key part in HEC Paris' mission of bringing about regional economic transformation by developing business talent, managers and leaders who can meet the societal and environmental challenges of the future. http://www.qatar.exed.hec.edu/
Qatar Foundation – Unlocking Human Potential
Qatar Foundation for Education, Science and Community Development (QF) is a non-profit organization that supports Qatar on its journey to becoming a diversified and sustainable economy. QF strives to serve the people of Qatar and beyond by providing specialized programs across its innovation-focused ecosystem of education, research and development, and community development.
QF was founded in 1995 by His Highness Sheikh Hamad bin Khalifa Al Thani, the Father Amir, and Her Highness Sheikha Moza bint Nasser, who shared the vision to provide Qatar with quality education. Today, QF's world-class education system offers lifelong learning opportunities to community members as young as six months through to doctoral level, enabling graduates to thrive in a global environment and contribute to the nation's development.
QF is also creating a multidisciplinary innovation hub in Qatar, where homegrown researchers are working to address local and global challenges. By promoting a culture of lifelong learning and fostering social engagement through programs that embody Qatari culture, QF is committed to empowering the local community and contributing to a better world for all.
For a complete list of QF's initiatives and projects, please visit: www.qf.org.qa
For more information:
Contact Us | Phone: +974 4141 3200 | Web: qatar.exed.hec.edu
Follow us on Facebook | Instagram | LinkedIn
For any media inquiries, please contact: pressoffice@qf.org.qa