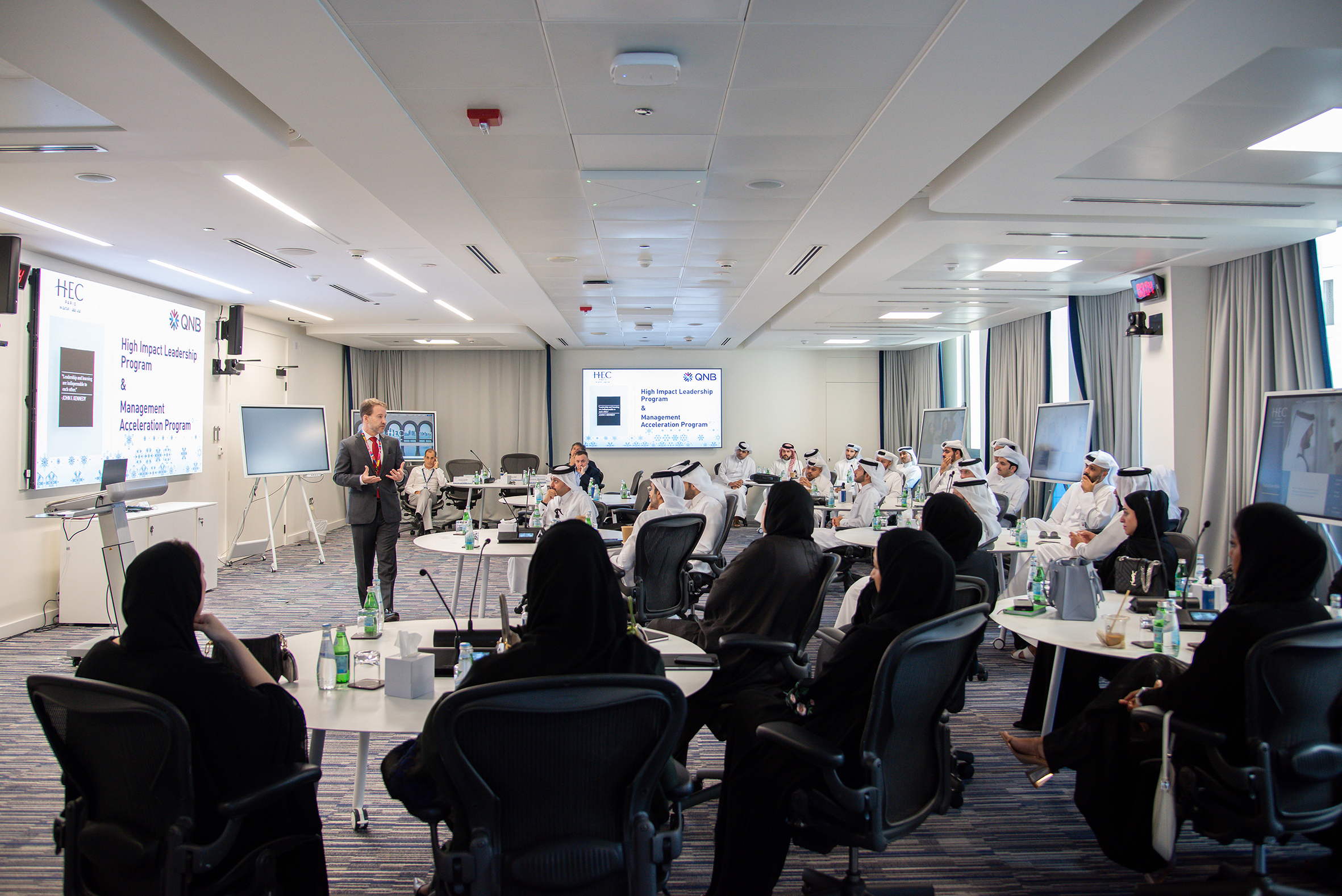 Doha, Qatar – 19thSeptember 2023: HEC Paris in Qatar, ranked #1 in the world by the Financial Times Executive Education ranking for the second year in a row, is thrilled to announce its collaboration with QNB Group, the largest financial institution in the Middle East and Africa, to design two customized executive education programs. In support of Qatar's national workforce, this collaboration aims to empower Qatari talent in pursuit of managerial roles with specialized skills and insights.
In line with the Human Development pillar of Qatar National Vision 2030 and led by esteemed HEC Paris faculty members from both Paris and Qatar campuses, the 'Management Development Program' and 'High Impact Leadership Program' will provide participants with the skills and knowledge required to excel in their roles and drive impactful organizational change.
In line with QNB's strategic Qatarization plan, HEC Paris in Qatar's Executive programs harness world-class expertise to enhance the competitiveness of the local workforce by nurturing leaders who can navigate complex global challenges, localize international best practices, and contribute to the country's sustainable economic growth.
"These programs will be an integral part of our Qatarization policies and ongoing commitment to developing and supporting emerging national leaders in lineأ with our five-year plan," commented Amal Mohd Al-Kuwari, Executive Vice President – QNB Group Talent Learning and Development. "In this era of unprecedented change, we need leaders who do not only recognize the opportunities in these transformations but also possess the skillset to drive strategic, organizational and cultural change."
The 'Management Development Program' empowers emerging leaders to enhance their management capabilities on organizational and individual levels, build meaningful working relationships and gain a comprehensive understanding of the dynamic business landscape, enabling them to drive change and transition into leadership roles within the organization. Meanwhile, the 'High Impact Leadership Program' aims to equip leaders with advanced management and problem-solving skills to navigate complex business environments, make informed decisions, and effectively lead their teams.
"QNB recognizes the value of investing in its key asset, its people, and the future of the Qatari nation," commented Dr. Pablo Martin de Holan, Dean of HEC Paris in Qatar. "By partnering with HEC Paris, it is leveraging the expertise of an institution recently ranked by the Financial Times as the No. 1 executive education provider for the second year in a row. We look forward to delivering these programs and demonstrating our unwavering commitment to fostering leadership excellence while driving a positive impact"


For more information:
Contact Us | Phone: +974 4141 3200 | Web: qatar.exed.hec.edu
Follow us on Facebook | Instagram | LinkedIn