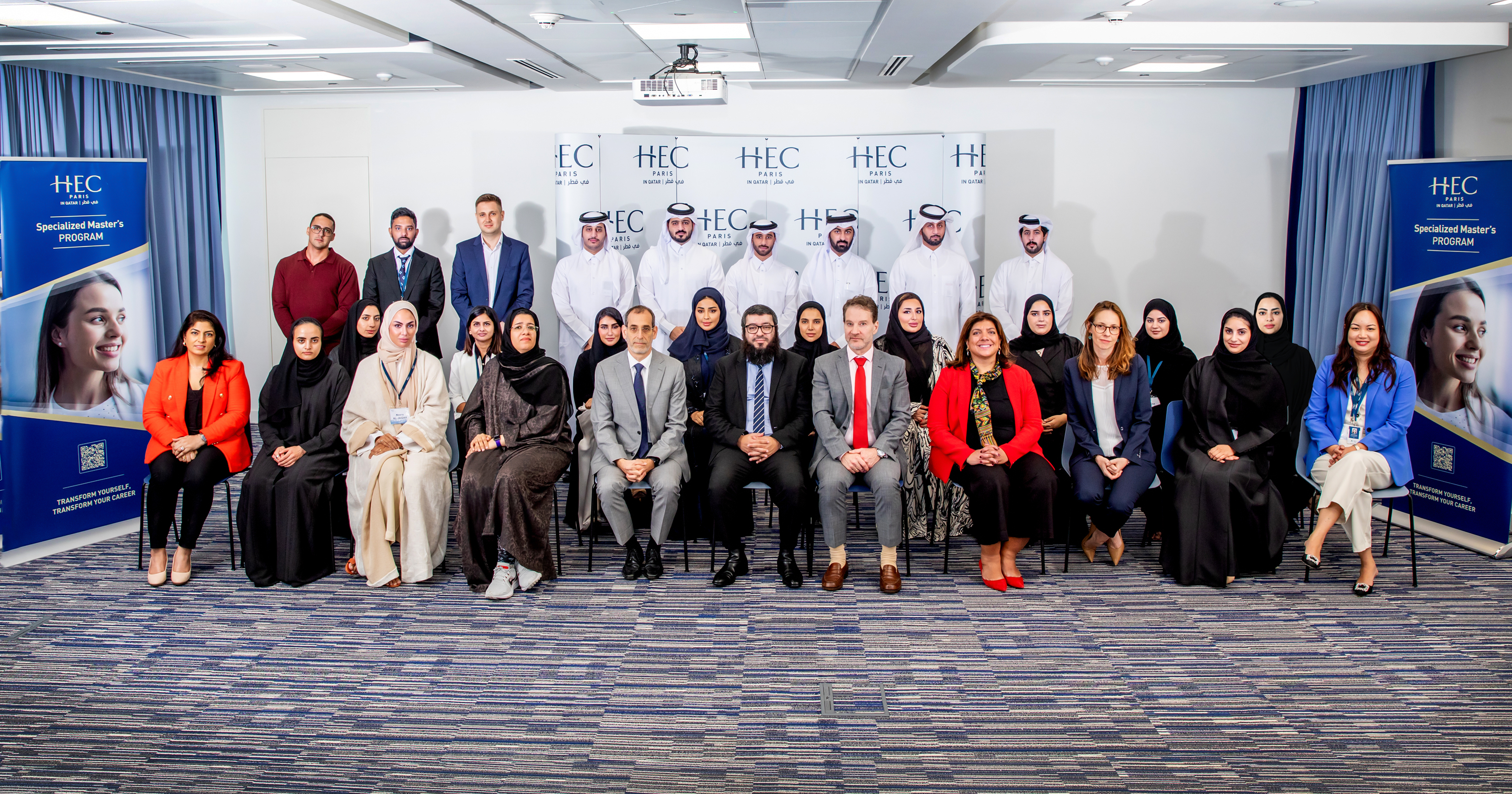 Doha, Qatar – October 29, 2023: HEC Paris in Qatar, ranked #1 in the world by the Financial Times for Executive Education, has welcomed 41 new participants to the 2025 Class of its Specialized Master's Degree in Strategic Business Unit Management (SBUM), at the HEC Paris campus in Msheireb Downtown.
In line with the Human Development pillar of Qatar National Vision 2030, the program serves as a practical foundation for managing business units and private ventures. The program welcomed participants of diverse ages, nationalities, and industries, including Energy, Telecommunications, Finance, Education, Media, Construction, Health, and Government. Furthermore, the program exemplifies HEC Paris in Qatar's commitment to nurturing local talent, with over 30% of attendees hailing from Qatar Foundation partner universities and 90% enrolment of Qataris.
Guided by esteemed faculty members from Paris and Qatar campuses, the SBUM program equips participants with specialized skills, fostering an entrepreneurial mindset and leadership acumen. These vital skills empower Qatar's emerging leaders to excel in their respective fields, drive impactful change, forge new career paths, and contribute to the country's transition to a knowledge-based economy. The program will equip participants with the strategic knowledge and skills needed to address complex global and local challenges, supported by the expertise of renowned academic and business leaders.
Addressing the participants, Dr. Pablo Martin de Holan, Dean of HEC Paris in Qatar, expressed his enthusiasm, stating: "Today marks the beginning of your transformative journey. The time you invest here, the time you invest in yourself will help you achieve your current professional and personal aspirations as well as inspire you to set new ones. At the end of this journey, you will be a better version of yourself; to become a better leader, you should also become a better person. We aim to empower you to navigate the uncertainties of our times with integrity, values, and an unwavering commitment to building a better, more just, and more peaceful world for all."
Noof Al-Heidous, Communications and Digital Marketing Specialist, at Qatar National Library and a participant in the Class of 2025, shared her excitement for the program: "The mix of career growth and leadership development opportunities attracted me to the SBUM program. The fact that I can study while fully employed also means that I can immediately apply what I learn in the program. We all come from diverse industries, which will help enrich the learning experience by encouraging the sharing of best practices and industry insights."
For more information about HEC Paris in Qatar programs, please contact: qatar-admissions@hec.fr


For more information:
Contact Us | Phone: +974 4141 3200 | Web: qatar.exed.hec.edu
Follow us on Facebook | Instagram | LinkedIn