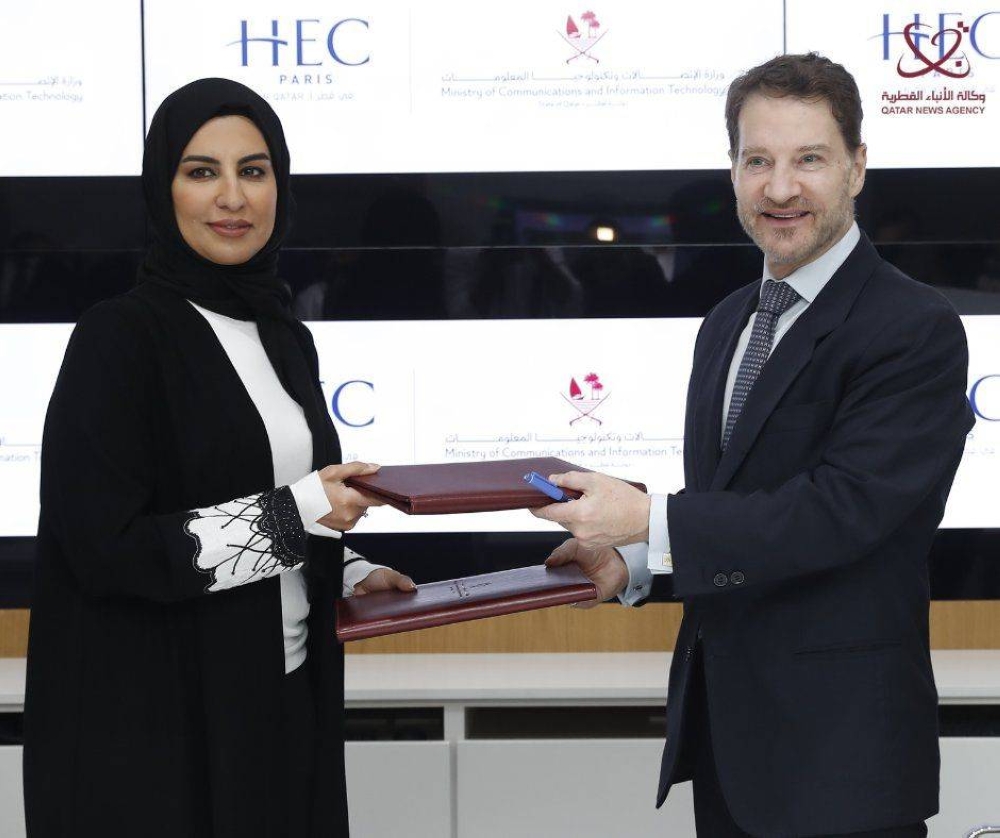 Doha, Qatar, January 2022: The Ministry of Communications and Information Technology (MCIT) has signed a memorandum of understanding (MoU) with HEC Paris in Qatar to enhance cooperation in supporting Qatar's digital transformation.
The MoU was signed on Wednesday at MCIT headquarters by Assistant Undersecretary of Digital Society Development at the Ministry of Communications and Information Technology HE Reem Mohammed Al Mansoori and Dean of HEC Paris in Qatar Dr. Pablo Martin de Holan.
Under this agreement, the two parties will support strategic and national plans for the development of the digital sector, initiatives and methodologies that will support the initiatives of the Qatar Digital Government and the Smart Qatar Programme that aim to improve the quality of life of all citizens and residents of Qatar.
Speaking on the occasion, Mansoori said, "Signing of this MoU comes within the framework of MCIT's mechanisms and efforts aimed at developing and enhancing the competitiveness of the digital and technological industry sector in Qatar in general by supporting the fields of entrepreneurship, research, and innovation."
She added, "MCIT is committed to supporting and inspiring a strong and smart ICT sector as one of the main pillars in the transformation of a knowledge-based economy, and today's note is an important step on the way to benefiting from HEC Paris's great experience and clear interest in supporting Qatar's digital and technology industry agenda.
"Cooperation between MCIT and HEC Paris will be seen in various fields related to technological and economic development in Qatar, and the development of a culture of innovation and entrepreneurship in all sectors of society."
Dr. Pablo Martin de Holan said, "HEC Paris in Qatar helps develop the leaders of tomorrow. By training the next generation of leaders in Qatar and the region, we are able to shape the talents that contribute to the development and transformation of the organizations, companies, and the economy of Qatar.
"This strategic partnership emphasizes HEC Paris' commitment to supporting national development in line with the Qatar National Vision 2030. We are proud of the partnership with MCIT, which highlights their trust in our leadership development programs and in our mission of having a positive impact on companies, and industries."
For more information:
Contact Us | Phone: +974 4141 3200 | Web: qatar.exed.hec.edu
Follow us on Facebook | Instagram | LinkedIn